COURSE DES1040: 3-D DESIGN 1
Level: Introductory
Prerequisite: DES1020: The Design Process
Description: Students develop skills and techniques for 3-D design by using tools, materials and processes common to 3-D design to complete a variety of project activities.
Software: Autodesk Inventor Professional. Free 3-year license here.
First Step Tutorials
To start our work in Autodesk Inventor, we need to get used to the interface and learn some basic functions. Open Inventor Pro and check out the welcome screen:
We will start by watching the Essential Skills Videos together, Overview and Fundamentals.
More Tutorials!
Next, there are 4 tutorials. You will follow the instructions and complete each tutorial. These tutorials are cool in that big red arrows show you exactly where to click, or, if you prefer, each step also has a video you can play that shows exactly where to click and what to do. Make sure you save your completed files to your Home drive.
Tutorial 1 – Create a 3D Model
Tutorial 2 – Create a 3D Water Bottle
Tutorial 3 – Import and use 2D data. For this tutorial 2 you will need this file: RB_001
Tutorial 4 – Place and connect parts. ConnectTutorial Files.
Assignment – Show your Inventor Skills
Time to show what you know and go further into our drawing skills. The next two projects are going to be handed in for marks, so follow the instructions carefully.  We are going to explore the impact of geometric and dimensional constraints on a simple sketch. Complete the following 2 tutorials:
Assignment – Parts Tutorial 1:
Click here to access the tutorial.
Assignment – Parts Tutorial 2: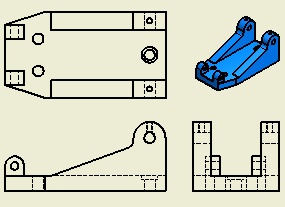 Click here to access the tutorial.
Assignment – Assembly Tutorial: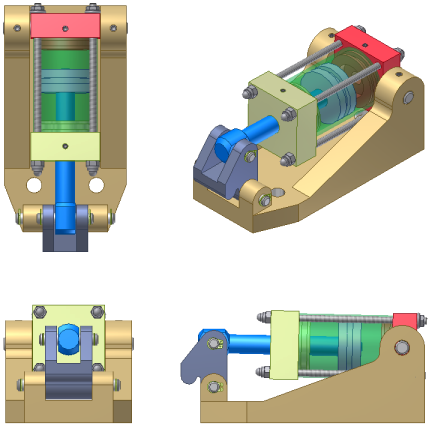 Click here to download the Cylinder Clamp. Be sure to download the .zip file to your H:/ drive, then right-click and extract the files.
Click here to access the tutorial.
Assignment – Sprocket Holder:
After the tutorials are complete, we will start our first project – Building a sprocket holder.
Project – Sprocket Holder
YouTube video of this project: Tutorial from iDesignSOL
PDF instructions for this project: Manufacturing Workshop